Tech
The Phone With Diamond Shine Design
This post will introduce the most luxurious phone on the market. We will introduce the phone with a diamond-like shine design! This incredible device has a dazzling diamond-like shine that will make you stand out from the crowd. Whether you're attending a formal event or just out with friends, this phone is sure to turn heads. Not only does the phone with a diamond-like shine design look amazing, but it also features cutting-edge technology. The Magic UI 4.2 operating system ensures smooth and responsive performance. In contrast, a powerful quad-core processor ensures you can run even the most demanding applications. The high-resolution touchscreen display provides stunning visuals, and the embedded camera lets you capture your memories in stunning detail. With its luxurious design and technology, the phone with a diamond-like shine design is the perfect way to stay connected and stylish. So keep reading to learn about the phone that has diamond shine.
Diamond Shine design phone
Honor 50 is a diamond-shine design phone. Here is more detail about this phone:
Shine like a true diamond.
The Honor 50 phone is a true diamond when it comes to design. The phone is made with a beautiful body that reflects light in all directions, just like a diamond. And the phone is made with a lot of attention to detail and shows in the final product. So, the phone has a beautiful design, and it is clear that a lot of thought went into the making of this phone.
Two rings design around the camera.
The Honor 50 is a smartphone that exudes style and uniqueness with its captivating design featuring two rings around the cameras. These rings add to their aesthetic appeal and serve a functional purpose. They house powerful camera modules that accurately capture the beauty of the world.
Whether you're capturing breathtaking landscapes or precious moments with loved ones, the Honor 50 ensures that every shot is rendered with remarkable clarity and detail. The seamless integration of cutting-edge technology and innovative design makes the Honor 50 a standout device, perfect for those seeking substance and style in their smartphone.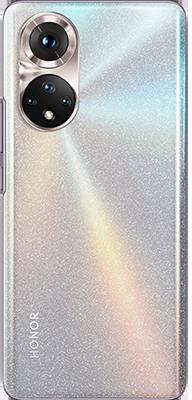 New colors and new inspiration
The Honor 50 phone sets itself apart with an enticing selection of new colors that will inspire awe. The Frost Crystal shade stands out, effortlessly complementing sparkling clothing and accessories with heavenly allure. Another captivating option is the Emerald Green, reminiscent of the gentle shadows cast by trees on a warm summer afternoon, adding a touch of natural beauty to the device. Additionally, the Honor 50 offers the sophisticated Midnight Black color, which exudes an unrestrained elegance. This diverse range of colors caters to individual preferences, allowing users to express their unique styles while enjoying the phone's cutting-edge features and capabilities. Whether you prefer a celestial charm, a nature-inspired hue, or an elegant sophistication, the Honor 50 has something to offer for every discerning taste.
Conclusion
The HONOR 50 phone With Diamond Shine Design is a high-end phone with a luxurious experience. The phone is designed with a diamond-shine finish and comes with a range of features perfect for users who want the best. Overall, this Phone With Diamond Shine Design is a top-of-the-line phone with the best features and performance.